Fitness
Bhagyashree suggests doing this exercise if you find leg workout 'boring' | Fitness tips of the day
According to the actor, this one exercise "works on your glutes, quads, hamstrings, calf muscles, and ankles together"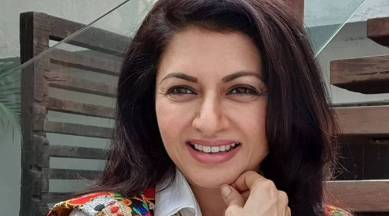 Bhagyashree suggests an effective leg exercise (Source: Bhagyashree/Instagram)
Ask any gym-goer about their most dreaded workout day, and they'll most likely say 'leg day' without a blink! Why is that? Well, this is because leg workouts are known to be more strenuous than upper-body workouts and one can take several days to recover from the same. It causes more work on your body as compared to traditional upper-body exercises, making many people shy away from being consistent.
You have exhausted your
monthly limit of free stories.
To continue reading,
simply register or sign in
You need a subscription to read this story. Get full access to Express Budget coverage, now with monthly plan too
This premium article is free for now.
Register to continue reading this story.
This content is exclusive for our subscribers.
Subscribe to get unlimited access to The Indian Express exclusive and premium stories.
This content is exclusive for our subscribers.
Subscribe now to get unlimited access to The Indian Express exclusive and premium stories.
If you, too, dread leg exercises or are simply bored of them, Bhagyashree, who regularly shares health and fitness tips on social media, has the perfect exercise for you! According to the actor, this one exercise "works on your glutes, quads, hamstrings, calf muscles, and ankles together".
Furthermore, it also improves your balance, stability and strength, she mentioned. Wondering what this simple yet effective exercise is? It's the walking lunges!
Alongside a video of her demonstrating this exercise, Bhagyashree said, "It is a simple exercise that can work on your complete leg muscles. It also manages to mobilise your hips, and works on your ankle flexibility and strength too."
Bhagyashree added that doing reverse walking lunges works on your cognitive abilities. "Any movement that's done in reverse increases the neurons in your brain. So, lunge walking in reverse does just that," she added.
How to do walking lunges?
Pankaj Mehta, Master Trainer, Gffi Fitness Academy shared the step-by-step process of acing walking lunges.
*Stand up straight with your feet shoulder-width apart.
*Now, forward your right leg, and fix your feet to the ground with heel and upper toe for stability and to produce maximum force.
*Start descending your knee, until your right leg's hamstring is parallel to the floor.
*Try not to cross your knee to your toe, and your other leg should align with the pelvic line.
*Both pelvic bones should be in a straight line and parallel to the floor.
*Keep your upper body upright to maintain core stability. You can bend forward (a little) while descending.
*Keep your right toe in the same position, bring the left leg forward in the lunge position, and go down until it is parallel to the ground.
*Do the same with your right leg.
*When you go down in a lunge position, inhale. When you go up, exhale.
Sharing the benefits, the fitness trainer said that walking lunges help "strengthen your glutes, hamstring and quadriceps, improve balance, and improve core stability".
📣 For more lifestyle news, follow us on Instagram | Twitter | Facebook and don't miss out on the latest updates!
© IE Online Media Services Pvt Ltd