Health News
Bodybuilding and choreographic fitness were shown from Trujillo state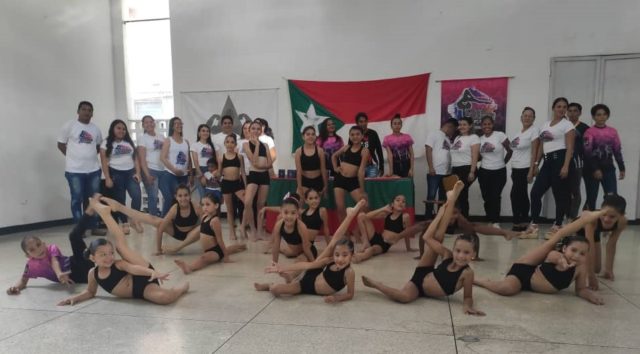 Choreographic fitness and bodybuilding are gradually consolidating as a new family of sports from Trujillo (Graphics: Hernán Araujo)
The experienced trainers Yeritza Peña and Johe González led the press conference in which details of the new stage of massification of the bodybuilding and choreographic fitness discipline in Trujillo state were given.
These two modalities that for France 2024 will officially debut as an Olympic sport, have their mass organizations in the entity, therefore in the last time they have gained greater popularity at the local level.
The Latin Power Fitness Club, with its president Yerismar Carrillo, and the Johe Models Academy, which is chaired by González himself, presented their athletes. The presidium was completed by the trainer and former National Champion of Aerobic Gymnastics, Kilderky Aldana (Latin Power Fitness), as well as Luis Montilla, who represented Jesús "Trompo" González, president of Indet.
In addition to athletes and the media, the parents or representatives of the athletes also attended the event, in which they enjoyed sports exhibitions from both clubs. The girls Marcela Salcedo (gold in choreographic fitness of the National Rookies) and Juliet Barrios (bronze in choreographic fitness of the National Rookies) by the LPF Club, gave a sample of everything they had learned.
Apart from the youth bodybuilder Vicente Gómez (two medals in his last national participation) from Johe Models, he showed his skills in such a demanding discipline.
historical turnout
The rookie Latin Power Fitness Club highlighted its historic participation with 16 athletes in the National Rookie Championship held in Caracas, where they captured their first two medals (gold and bronze) for the state, for which they received congratulations from the federative organizers.
In the same competition, but in the bodybuilding modality for special athletes, the gold medal for the girl Alexandra Villarreal, belonging to the Dance Fit Academy, also stood out.
They will make up the National A team
The next challenge for bodybuilding and choreographic fitness from Trujillo is the National A Championship to be staged on July 14, 15 and 16 in the country's capital. For this competition, the different clubs are focused on forming the athletes that will represent the state.
---
Miguel Angel Albarrán
[email protected]
@migueperiodista
.