Health News
How to make 'home fitness' a viable business idea from Burgos
Jaime Rodríguez arrived at the Fundación Caja de Burgos Entrepreneurs program almost six months ago with a somewhat peculiar business idea: to scale up and professionalize his blog tupropiogym, a portal that aspires to "serve as a guide for those who want to train at home".
The idea, as he explains, comes from a long time ago. The 'home fitness', which is called internationally, "is a culture inherited fundamentally from the United States." There, a good part of the homes are single-family and it is very common for athletes to set up a small gym in one of the spaces on their property. In Spain, however, it is a practice with "little influence", although there are many who have considered it at some point, especially as a result of the pandemic and the consequent restrictions.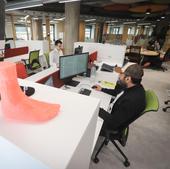 And that is precisely the target audience of tupropiogym. Basically, it is an untapped market niche in Spain, and Rodríguez wants to take advantage of it. For this reason, he knocked on the door of the Foundation with the project under his arm, seeking help to develop it. And the experience, he assures him, is being more than positive.
Part of the work, he explains, was already launched. In fact, the blog itself was born as a kind of confluence of two of Rodríguez's own passions, such as physical exercise and Internet management. Not surprisingly, he is an SEO consultant and a physical training technician.
However, to take the project to its full potential, he had to step up. To do this, the Entrepreneurs program assigned her a mentor specialized in accounting who is guiding her in the preparation of a five-year business plan.
A plan that, basically, proposes the professionalization and monetization of a blog that for the moment is "self-financed", but that aspires to become a viable business with the capacity to create employment.
For now, these first months are being satisfactory. "The program environment is exceptional and the facility (Nexo building) is incredible." To the point, he assures, that "very interesting" collaborative networks are being generated in the coworking space.