Fitness
Is cycling the answer to men's loneliness epidemic? | Fitness tips of the day
With 15% of men saying they have no close friends, mental health charities are concerned that loneliness is becoming an ever bigger threat to male life expectancy. But could cycling groups, clubs and connections prove to be the salvation for a nation of lonely males?
Asif Haque joined a cycling group after suffering health problems in 2021. "Expectations in the early stages were low," admits Haque, 45, a school teacher from South Woodford, London. "We were middle-aged to older men, all from different backgrounds, and none of us conformed to the cycling stereotypes. But we learned from riding together to make it a positive experience and become friends." Haque is one of a growing number of people for whom cycling has opened the doors to finding new friends and expanding social circles at a time when men especially are in need of help.
Loneliness has become a modern affliction of epidemic proportions, with adult men the worst affected. A 2019 YouGov survey recorded that 44% of UK men admit to frequent feelings of loneliness. "The impact of loneliness and isolation is reflected in higher rates of depression and suicide among men – three times that of women – and the peak is the 50 to 54 age group [suicide rate of 22.5 per 100,000]," explains Peter Hudson, a chartered psychologist. "One study I looked at said 15% of surveyed men said they had no friends at all."
Not only are we missing out on the social interaction that, as inherently social animals, we rely upon, but it's having a devastating impact on our life expectancy too. A study published in Psychiatry Research that followed more than 2,500 men aged 42 to 61 for more than 20 years found that loneliness increased cancer risk by 10%, regardless of age, socioeconomic status, lifestyle, and other risk factors. So why are men especially struggling to reap the rewards of friendships in an age when social connections – at least in the virtual world – are greater than ever?
According to Max Dickens, author of Billy No-Mates: How I Realised Men Have a Friendship Problem, too many of us guys are missing out on something that social psychologists call 'propinquity'.
"Propinquity refers to physical or psychological proximity – closeness between individuals, often leading to increased social interactions and relationships." How is this closeness developed? "Generally, we increase propinquity and basically make friends when we are around people who are similar to us, in certain places." In earlier life, at school and college or university and into our 20s, we make these connections organically as the result of being in shared spaces. "As we get a bit older, we tend to lose the places and miss the social collisions [spontaneous connections] as careers and family life takes precedence," adds Dickens.
These circumstances are similar for men and women, of course, but the crux is how female friendships tend to differ from male ones. "Female friendships are based around talk – a lot of emotional disclosure," says Dickens. "When you look at what maintains male friendships over time, it's not talk that's the driver, it's activity." Which is where cycling comes into the equation.
The cycling soloution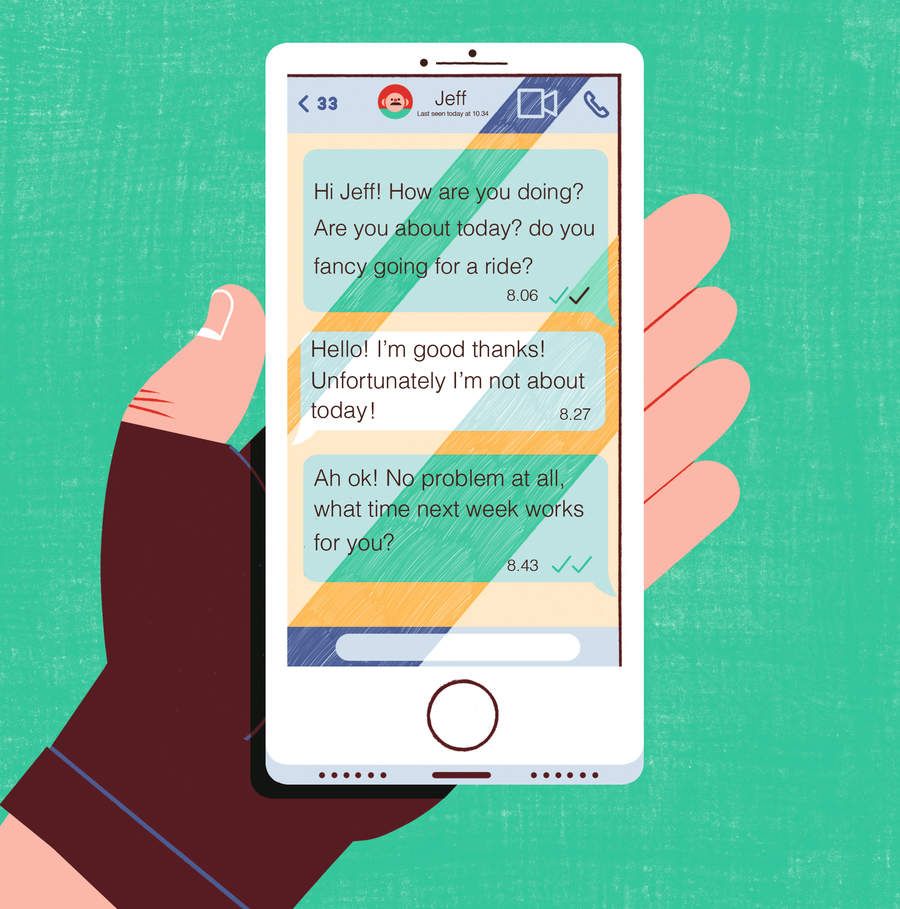 Activity was the lure for Asif Haque to take to two wheels, but meeting a whole new bunch of mates in his 40s had a knock-on benefit. "I'd been fit and healthy all my life, but in 2021 I suffered a heart attack out of the blue," says Haque. "After that I found myself kicking around the house for weeks on end, unable to return to work but desperate to get back to being active. Being stuck at home really put that into perspective for me." He joined a rehab cycling group, part of the London Cycling Campaign's Community project, and hasn't looked back.
While the opportunity to exercise under expert supervision was key to Haque's decision, the unforeseen benefits of meeting new friends have, he feels, provided even greater rewards. "I met up with the group and was nervous at first because of what had happened to me. I'd never really hung out with anyone else who'd been through what I'd been through. I'd had next to no one to talk to about it who'd shared that experience. But the group leader and driving force, Mike McSherry, made me feel instantly welcome, and it's been life-affirming." 
Haque has reflected on how men are especially poor at maintaining close friendships. "I think it's partly because of the emphasis we put on careers and how we identify ourselves by our profession, what we do. We introduce ourselves to other people by saying, 'I'm a car mechanic' or 'I'm a school teacher' – not 'Hi, I'm a father of two'." This over-emphasis on our working life has implications for our social life. "As we get older, we tend to have associates or work colleagues as opposed to actual friends or confidants. Hand on heart, if we all think about the people that we have round for dinner or a social event at the house, I'd say more than 80% are work-related or work-met, in my case at least."
Max Dickens points out how Haque's experience is one example of how cycling offers a way out of loneliness and isolation for many males hitherto in the high-risk category. "It's an activity that provides a platform for that propinquity – being in the physical or psychological proximity of people with whom you have a shared interest," says Dickens. "By their nature, cycling clubs routinely provide the 'social collisions' for those people with a shared interest. The club meet is a tent pole in the diary so that you know – no matter what else happens in your life – on Sunday mornings you go out with the group for a ride and you have a drink afterwards."
Cycling also offers a unique opportunity for men to open up and talk about issues that might otherwise bottle up. "The physical act of cycling, particularly group rides – and especially riding two abreast – lends itself perfectly to communicating personal stuff," says psychologist Peter Hudson. Confronting difficult topics – for example, in Haque's case, his heart attack – can come much easier. "It's less intense than looking someone in the eye; men especially feel more at ease talking while cycling or walking side-by-side."
Health by stealth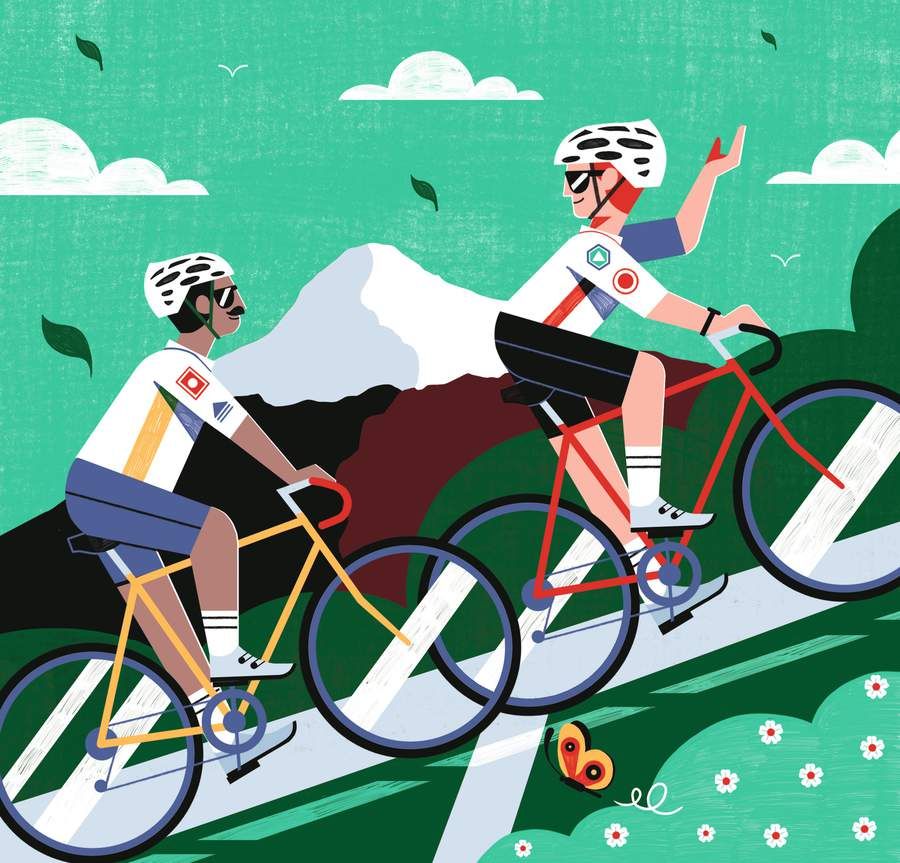 The Covid pandemic only exacerbated the problem of isolation and loneliness for both men and women. But cycling groups are perfectly positioned to offer mental and physical health solutions to those whose well-being is being imperilled by loneliness. "Being able to socialise in a group has really helped me build my confidence. It was something I hadn't been able to do for over two years," says Christian Johnson (not his real name), a 45-year-old rider with Bristol-based inclusive cycling project Bike Minded. "I always feel good after a whole day out on my bike. The rides give me something to look forward to and help me stay motivated to stay well. Riding in a group has helped me to get out more and find activities in the community – to engage with people, make connections, and become less isolated."
This year's Movember men's health campaign is emphasising how activities such as walking, running and cycling can play a vital role in improving male mental health. But as Dickens points out, to really target those in need, it pays to avoid using terms like 'loneliness' in the title. "There's a stigma to loneliness. Men don't like to admit they're in need of help – so you need to create a pretence to bring them together to take part in an activity," says Dickens.
"Projects like Men's Sheds are a good example. They call it 'health by stealth': inviting men to 'come to the shed and you can help mend stuff' – and lots of like-minded blokes are attracted by that. Men learn how to fix up motorbikes and do practical activities, and all the time they're socialising, meeting new people, and engaging in ways that have been shown to help mental health."
For Johnson, joining a cycling group has helped him connect with the outside world in a new way and boosted his confidence. "There's also always a sense of real achievement, that I've managed to get out, do something proactive, engage with people and have a positive, successful day."
Healthy routine
For Haque, cycling has become a firm part of his weekly routine. "The social interaction is such that I have changed my working schedule now so that I can take part in our Wednesday afternoon ride-outs," he says. "That midweek ride is completely different from the rest of my week – nothing to do with work or family, just me and a few mates cycling – and as such, it makes a huge difference to my mental and physical health."
Cycling clubs offer a platform for men to rediscover the benefits of social interaction and meet new people later in life. "There are a lot of people who are isolated or are out of the rhythm of friendship," says Dickens. "They're sitting there right now thinking 'How the hell am I ever not going to be like this?' But by joining that group, things can just snowball into a whole new bunch of friendships."
Cycling still has a way to go to be more inclusive and welcoming, cautions Hudson. "Those who've heard of the 'Rules of Velominati' will know that Rule 5 is 'Harden the f*** up'," says the psychologist, disapprovingly. "That macho atmosphere does still pervade cycling. Paradoxically, one of the ways in which this may be helped is by encouraging more women to join clubs," he suggests. "Women will bring that greater sense of social networking and mutual support, and hopefully that will rub off on the nature of men's interactions within a cycling group."
Fellow psychologist Dr Josephine Perry agrees that clubs need to address closed-shop and closed-mind attitudes. "When I moved to where I live now, I saw the local cycling club at a summer fair and went to talk to them about joining," explains Perry. "Rather than asking, 'What kind of speeds do you do?' or 'What do you fancy doing?' – I'd just finished in the top 10 at the National 100km time trial – their instant response was, 'Yeah, sure, we have a slow group you could join'." The result of such attitudes is that the culture within clubs remains stubbornly inward-looking. "If you're going to encourage new riders," says Perry, "it needs to be done openly, without being patronising, welcoming different perspectives." 
Meanwhile, for Haque, joining a cycling club has been an opportunity to buck a frightening trend of loneliness. He now assists people from all walks of life coming together through cycling. He even led a group at Ride London 2023. "Two years on and it's changed my life," he adds. "At any one time there can be anything from five to 25 of us riding together – all extremely supportive of each other, all from totally different walks of life."
OPEN FOR FRIENDSHIP How to join the war on loneliness
How can you ensure your cycling club or group is a welcoming and supportive environment? Here are some tips from Ross Adams of Cycling UK's (cyclinguk.org) Making Cycling Easier programme. 
Go off-road: Arrange meet-ups that don't involve the bike, such as a planning session at a cafe or quiz night at the pub, and focus on the social element. 
Go slow: Have dedicated 'open to all' rides where fast kit isn't essential and you ride at the pace of the slowest rider. 
Go easy: E-bikes are bringing people to cycling, older and less well-trained riders, who'd never considered it before. Set up an e-bike wing to your club or have dedicated e-bike events. 
Go scenic: For newbie members still getting to grips with intimidating road traffic, have a buddy scheme with experienced riders and a few rides that stay away from busy roads. 
Go social: Look at your social media messaging; is it a fair reflection of your club, does it look welcoming and inclusive?
Alone vs Lonely: 'Solitude is a choice, loneliness is not'
Dr Josephine Perry is a Chartered Sport and Exercise Psychologist. She integrates expertise in sport psychology and communications to support athletes, stage performers and business leaders to develop the approaches, mental skills and strategies which will help them achieve their ambitions. Josephine has written five books including Performing Under Pressure, The 10 Pillars of Success and I Can: The Teenage Athlete's Guide to Mental Fitness. 
Psychologist Josephine Perry emphasises the importance of recognising the distinction between loneliness and solitude. 
"Solitude, on the other hand, is a positive state of comfortable aloneness," says Dr Perry. "Cyclists often enjoy solo rides for the relaxation and peace they offer. Loneliness, however, denotes emotional disconnection despite physical presence with others, a crucial difference." 
Perry warns that, when combating loneliness through cycling, it's important to be watchful for addictive tendencies. "Disconnection often leads to grasping on to passionate my working schedule now so that I can take part in our Wednesday afternoon ride-outs," he says. "That midweek ride is completely different from the rest of my week – nothing to do with work or family, just me and a few mates cycling – and as such, it makes a huge difference to my mental and physical health." Cycling clubs offer a platform for men to rediscover the benefits of social interaction and meet new people later in life. "There are a lot of people who are isolated or are out of the rhythm of friendship," says Dickens. "They're sitting there right now thinking 'How the hell am I ever not going to be like this?' But by joining that group, things can just pursuits, which can become addictive," she says. "Cycling, with its various engaging aspects – Strava, mileage targets and gear obsession – can inadvertently foster addictive behaviour." 
Mindfulness regarding addiction indicators is advisable. Such addiction might manifest as an incessant need to train intensely (or extensively) every day, neglecting rest and other responsibilities. "That said, cycling is brilliant for connection," adds Perry. "It's quite easy to find groups, there are tons of forums where you can talk about cycling – and loads of people on them who love to share their knowledge of cycling."
If you have been affected by any of the issues raised in this feature, help and support are available from the following charities: 
■ MIND mind.org.uk 
■ CALM (Campaign against living miserably) thecalmzone.net 
■ Cycling Buddies lcc.org.uk/groups/ cycle-buddies 
■ Movember uk.movember.com
This article first appeared in the 
This article first appeared in Cycling Weekly print magazine, on September 14, 2023. Subscribe to get the magazine delivered to your doorstep, every week.