Wellness Tips
Nutritionist Serena Poon Reveals Her Most Important Daily Habits
Last year, nutritionist and celebrity chef Serena Poon CN, CHC, CHN partnered with leading longevity pro, Professor David A. Sinclair, A.O., Ph.D. to found Fully Aligned Co. The research-based organization has one mission: to democratize access to the education and tools required to optimize longevity.
Wellness can be overwhelming and the longevity space is evolving quickly as continual research promises to change the way we approach our health. In fact, Sinclair says in his latest book, Lifespan, "I believe that aging is a disease. I believe it is treatable. I believe we can treat it within our lifetimes. And in doing so, I believe, everything we know about human health will be fundamentally changed."
With that in mind, we asked Serena to share the most meaningful wellness habits she adheres to now. Her list of non-negotiables cuts through the noise of endless wellness tips and options we find online and brings us back to the basics, as so many longevity pros do.
11 Important Wellness Habits To Adopt Right Now
01 Hydrate | Every cell in your body is made up of water, and all your systems run better if you stay hydrated. I usually recommend that people drink their body weight in ounces each day (so if you weigh 120 lbs, you would drink 120 oz of water each day). I start my day with about 24-30 ounces of warm water with fresh lemon. The warm water serves to stimulate the gastrointestinal tract and peristalsis to keep things moving, while lemons help loosen ama, or toxins, in the digestive tract and quickly flush out these unwanted materials. Read Next: 7 Cute Alternatives To The Ubiquitous Stanley Travel Tumbler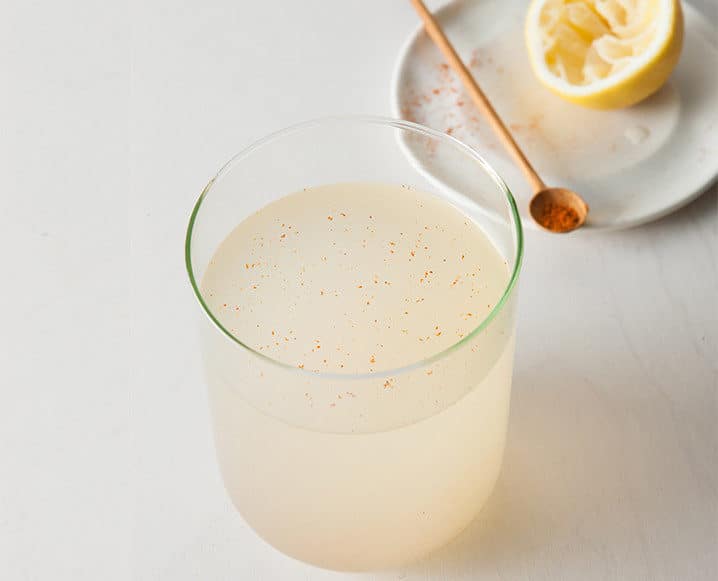 02 Eat The Rainbow | "Eating the rainbow" is really the best and simplest piece of nutrition advice. The color of fruits and veggies correlates to different antioxidants, nutrients, or phytochemicals that will provide your body with various benefits. Challenge yourself to eat a fruit or vegetable of every color each day and try to switch up the list on a regular basis. Read Next: 6 Gorgeous Cookbooks That'll Put You In A Warm Weather Mood
03 Meditate | Meditating is proven to help you control your behavior. Rather than responding from an emotional place, you can train your brain through meditative practices to react calmly, rationally, and more meaningfully. These cognitive states that you can learn help to reduce stress and cellular aging. Read Next: Are You Afraid To Be Happy? 3 Surprising Truths About Meditation
04 Incorporate Regular Movement | Exercise is an important component of a healthy lifestyle. Moving your body regularly helps to boost mood, get the blood and oxygen flowing through your body and increases perceived energy levels better than a dose of caffeine. Exercise also supports heart health, bone health, mental health, and so much more. I definitely recommend that people make movement of some sort a habit. Read Next: The Sculpt Society's Megan Roup Shares Her Popular Quickie Workout
05 Put Your Body into Perceived Adversity | When we refer to adversity and threats, this type of healthy stress or restriction protects the body by turning on longevity genes and pathways. Fasting is just one type of adversity; there are other methods like hot and cold therapy, cryotherapy, exercise, sauna, and hypoxia that also have these positive effects. Read Next: Is The DIY Plunge Pool the New Hot Tub? 
06 Breathe | Breathing is a necessary and often subconscious activity, but taking time to focus on your breath can be a life-changing practice. Deep breathing exercises have been shown to increase energy, relaxation and comfort and reduce anxiety, depression, anger, and confusion. Further, deep breathing activates the body's parasympathetic nervous system, which can calm a stress response quite quickly. One thing that is great about breathing exercises is that you can do many of them anywhere. Read Next: 5 Unexpected Things That Happen To Your Body When You Practice Breathwork
07 Sleep | Sleep is, without question, one of the most restorative non-negotiables for a healthy, optimal lifestyle. A good night's sleep allows your body to detox, refresh and reset. There are toxins that accumulate in your brain and your organs, throughout the course of the day, that you detox when you sleep and release when you wake. Simply put, a good night's sleep helps you function more optimally spiritually, cognitively, physiologically, and emotionally. Getting too little sleep can disrupt eating habits, mood, mental health, and more. Read Next: Do Women Really Need More Sleep Than Men?
08 Nurture Relationships | Keeping up with your real-life social relationships correlates to a longer life. You may have already discovered that there are healthy and unhealthy relationships a part of your life right now. Those people and your connectedness to them affect your energy and overall health. Read Next: He Said, She Said: Laird Hamilton + Gabby Reece On Secrets To A Happy Marriage
09 Try a Digital Detox | Setting aside your phone and computer for a while releases your body and mind from constant stimulation. The light and electromagnetic frequencies emitted from computers and phones have been shown to disrupt sleep cycles, and sleep is one of the most important factors for mental, physical, and emotional health. Turn off your phone and head outside to balance out your week of screens with connection to the natural world.
10 Get Outside Once a Day | There are numerous benefits to spending time outside, one of which is increasing vitamin D intake. Vitamin D is really important for immune health, bone health, and chronic disease prevention, and more and most people are not getting enough. Read Next: 7 Fitnesswear Sets We Can't Wait To Wear 
11 Practice Mindfulness | Incorporating mindfulness into your daily routine can truly transform your life. Mindfulness has been shown to decrease stress and anxiety, improve physical health and boost the immune system among many other benefits. Mindfulness is not just about meditation, mindfulness practices can be applied to any aspect of your life. You can be mindful about how you schedule your time, mindful about when you are approaching burnout, and mindful about which foods give you energy or make you feel lethargic. To begin incorporating mindfulness into your workday, all you have to do is start to notice what is happening around you and inside of you. You may even want to keep a journal to record what you observe. Read Next: How To Start A Bullet Journal + Use It To Stay Sane
What are your wellness non-negotiables? Tell us below.
Share the post "Nutritionist Serena Poon Reveals Her 11 Most Important Wellness Habits"