Wellness Tips
What Are the Benefits of Functional Mushrooms? (Plus, 8 Supplement Brands To Try)
"If eaten customarily, it makes your body light and young, lengthens your life, and turns you into one like the immortal who never dies," the legendary Chinese herbalist and ruler, Emperor Yan, allegedly wrote of mushrooms. He was talking specifically about reishi, a fungus native to East Asia, which is still used in traditional Chinese medicine today.
But in recent years, mushrooms have started to soar in popularity in the US, too. To be clear, there is no evidence that they can make you immortal, but there is research to suggest that some varieties may help to reduce fatigue, bolster the immune system, and even support gut health.
Rising awareness of these potential benefits has helped to create a growing global market, which is currently valued at nearly $27 billion, according to market research platform Grand View Research. But how do you reap the alleged "superfood" benefits of mushrooms? And which are the best vegan supplements on the market? We've got you covered.
What are mushroom supplements?
To put it simply, mushroom supplements all contain extracts of fungi that have supposed health benefits.
For example, lion's mane is an edible mushroom that grows across Europe, Asia, and North America. It's a tooth fungus, with a white color and shaggy hair-like appearance, and there is some research to suggest that it may help to support brain health. This is likely because it contains compounds called hericenones and erinacines, which, studies indicate, may help to stimulate nerve growth.
Like many different types of mushroom extracts, you can buy lion's mane supplements in several different formats, including powder, gummy, and tablet form. You can also cook with lion's mane, as it has a tender texture and a pleasantly mild sweet flavor.
Other popular varieties of mushrooms you can find in supplement form include reishi, chaga, turkey tail, oyster, shiitake, and cordyceps.
Pexels
What are the benefits of mushroom supplements?
Mushroom extracts aren't just good for potentially supporting brain health. According to some research, cordyceps fungi may also help to boost exercise performance, because it contains an energy-carrying molecule called adenosine triphosphate.
Chaga fungi have also been linked with fighting long-term inflammation in the body, and there is some research to suggest that, due to its antioxidant content, it could help to reduce "bad" cholesterol, too.
In the US, a mushroom called turkey tail (so-named because of its appearance) is particularly popular, and that's because it naturally grows in the forests of North America. There is evidence to suggest that this mushroom may help to maintain a healthy balance of gut bacteria, and, because it's also packed with antioxidants, reduce inflammation in the body, too.
Research is still ongoing into the medicinal benefits of mushrooms. And while there is evidence to suggest that supplements are healthy for us, it's important to recognize that, while there are a lot of exaggerated claims on the internet, there is no research to suggest fungi can cure or totally prevent chronic diseases, like cancer, for example. And be wary of any brand or platform that says otherwise.
​​"At this point the FDA only allows us to say that mushrooms have antioxidant properties, support the immune system, and support general health – that's as far as we can go," mycologist Paul Stamets told the Guardian in 2018. 
The best vegan mushroom supplements
If you want to put mushroom supplements to the test and see if they help you feel any different, then there are many, many different options on the market right now. And good news: most of them are vegan! To help you decide, here are some of our favorites.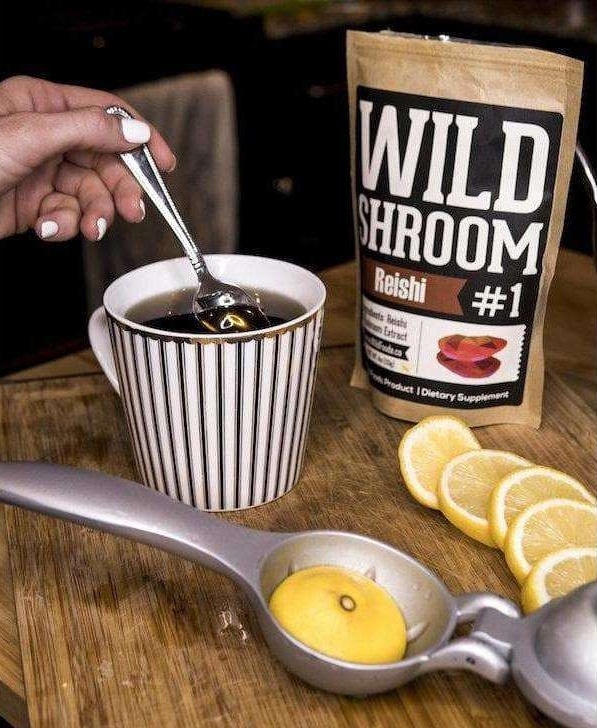 Wild Foods
1 Wild Foods Co Shroom #1 Reishi Mushroom Extract 10:1 
For this powder supplement, Wild Foods Co sources its reishi mushrooms from Chinese farmers, who have been growing the fungi using logs for generations. According to the brand, the mushroom can also be grown using materials like cork or grain, but log-grown has a better and more "noticeable" quality. Powder mushroom supplements can be enjoyed in everything from coffees to soups, depending on your preference.
try it here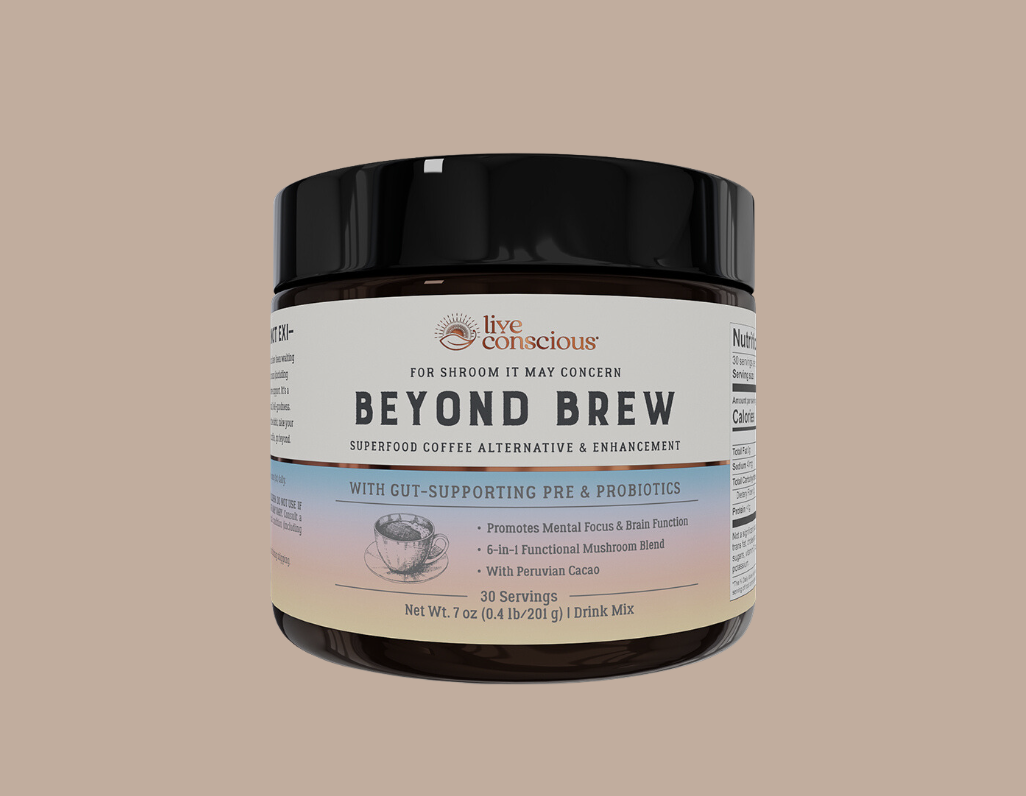 2Live Conscious Beyond Brew 
Designed to be drunk in place of your usual morning coffee, this powder caffeine-free blend by Beyond Brew contains six different mushrooms, including reishi and lion's mane. To boost gut health, it also contains a blend of pre and probiotics. Find out more about the benefits of vegan probiotics here.
try it here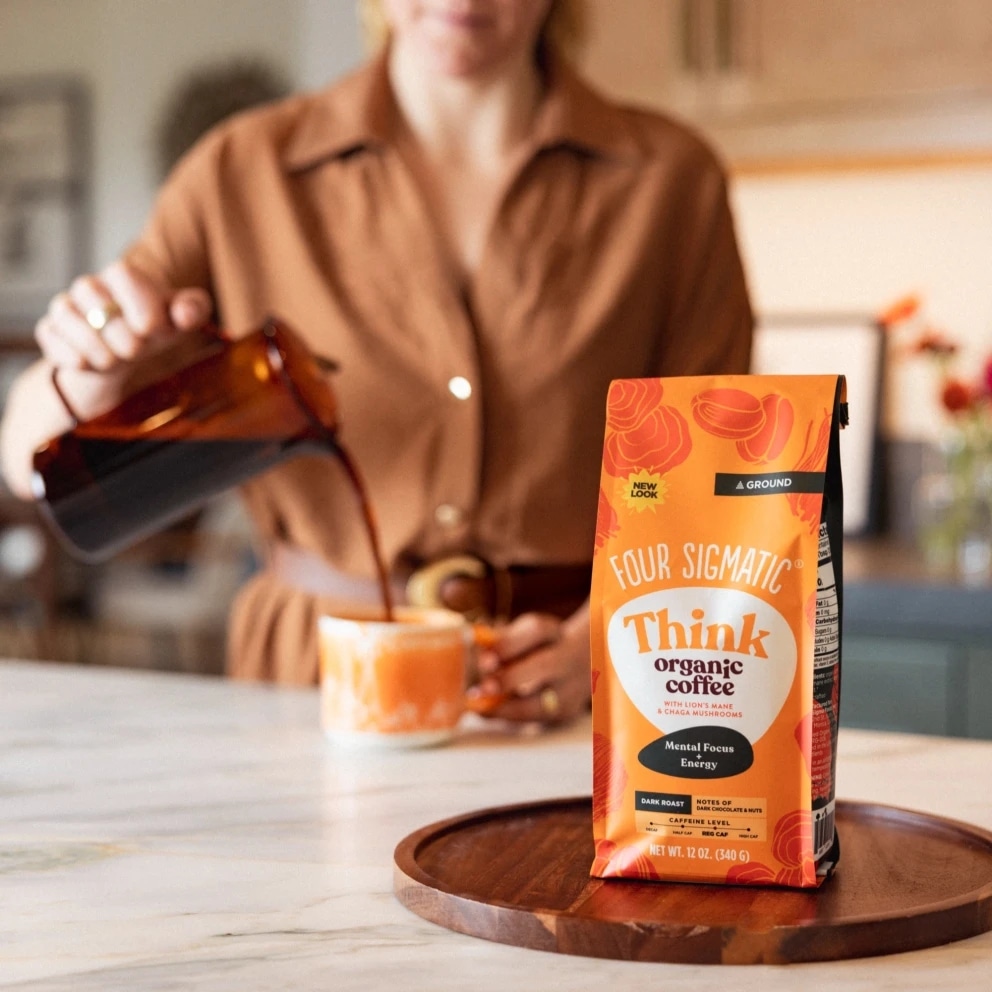 Four Sigmatic
3 Four Sigmatic Think Ground Coffee
If you want to start adding mushroom supplements into your morning routine, but if you don't want to give up your regular coffee boost, Four Sigmatic combines the two with this fair-trade, organic ground coffee blend that contains extracts of lion's mane and chaga mushrooms.
Try it here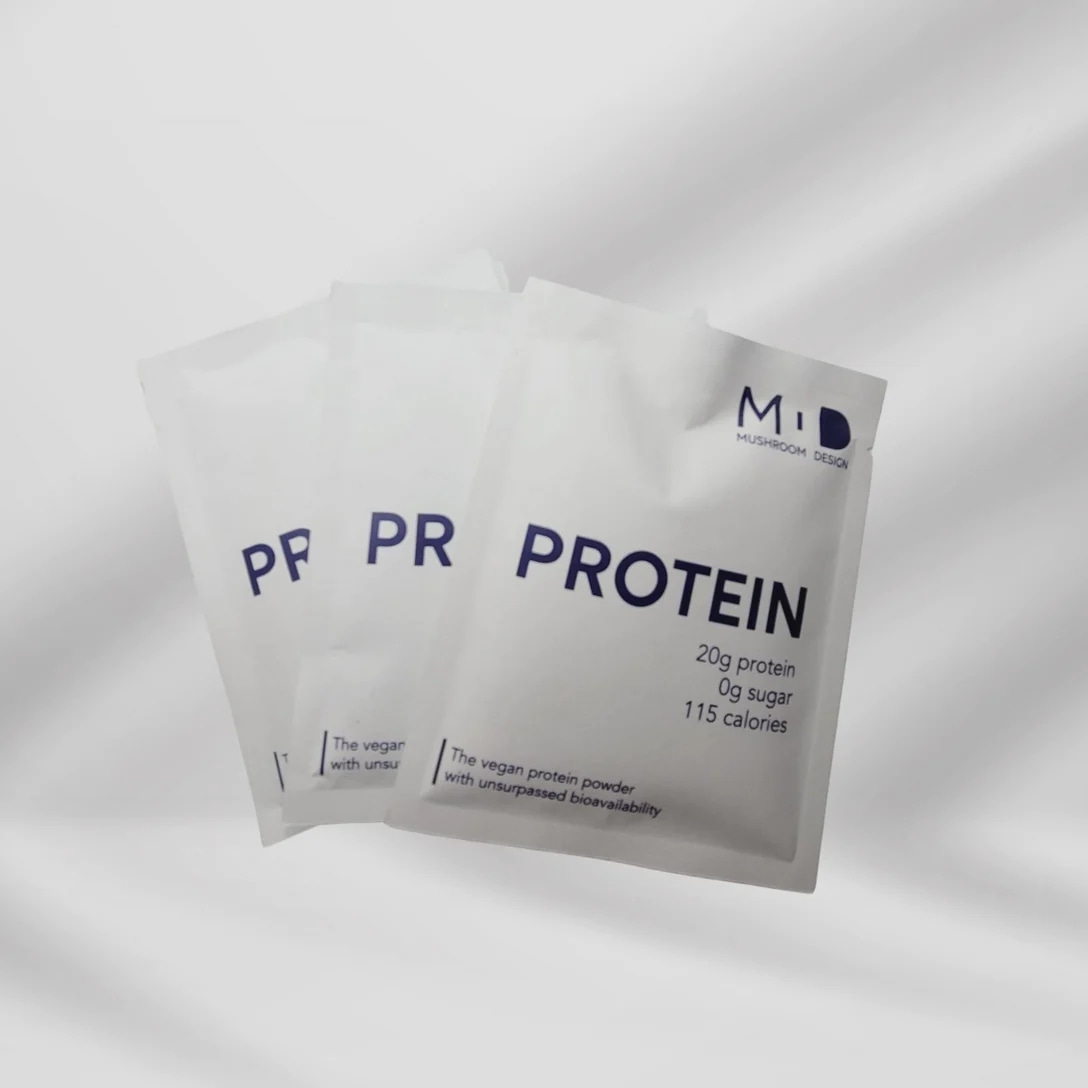 Mushroom Design
4 Mushroom Design Vegan Protein Powder
Looking to shake things up post-gym? This vegan protein powder, which is made without peas (unlike many options on the market), features extracts from several different types of mushrooms, including chaga, cordyceps, lion's mane, oyster, and shiitake.
try it here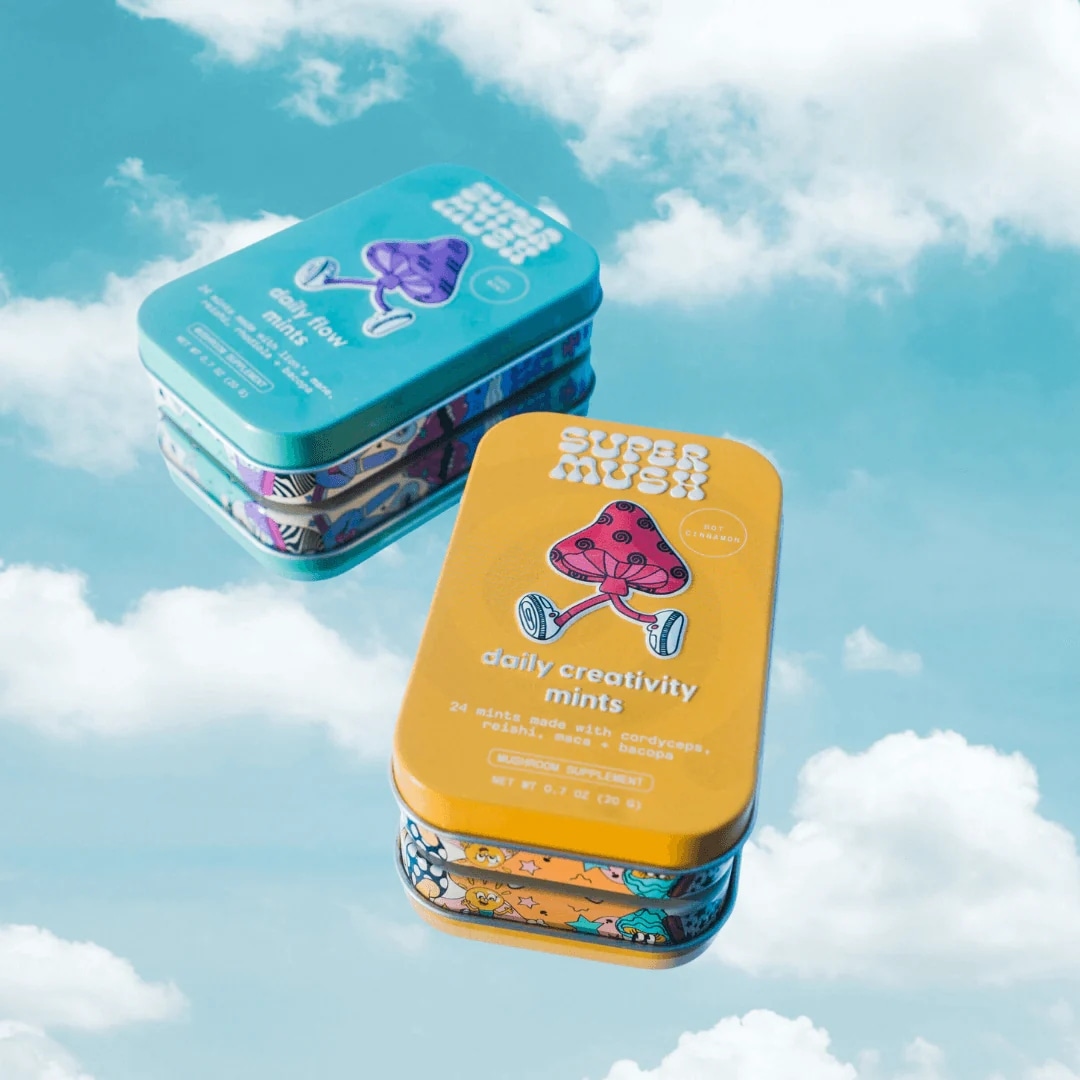 Super Mush
5 Super Mush Daily Supplemints
If you don't want to consume supplements in powder form, there are other options available, including these mints from Super Mush. There are two options to choose from, Daily Flow and Daily Creativity, and each contains extracts from mushrooms like reishi and lion's mane, alongside other organic plant extracts, like ginger, cinnamon, and peppermint. The brand also offers a range of daily mouth sprays, but because they contain honey extract, they are not vegan.
try it here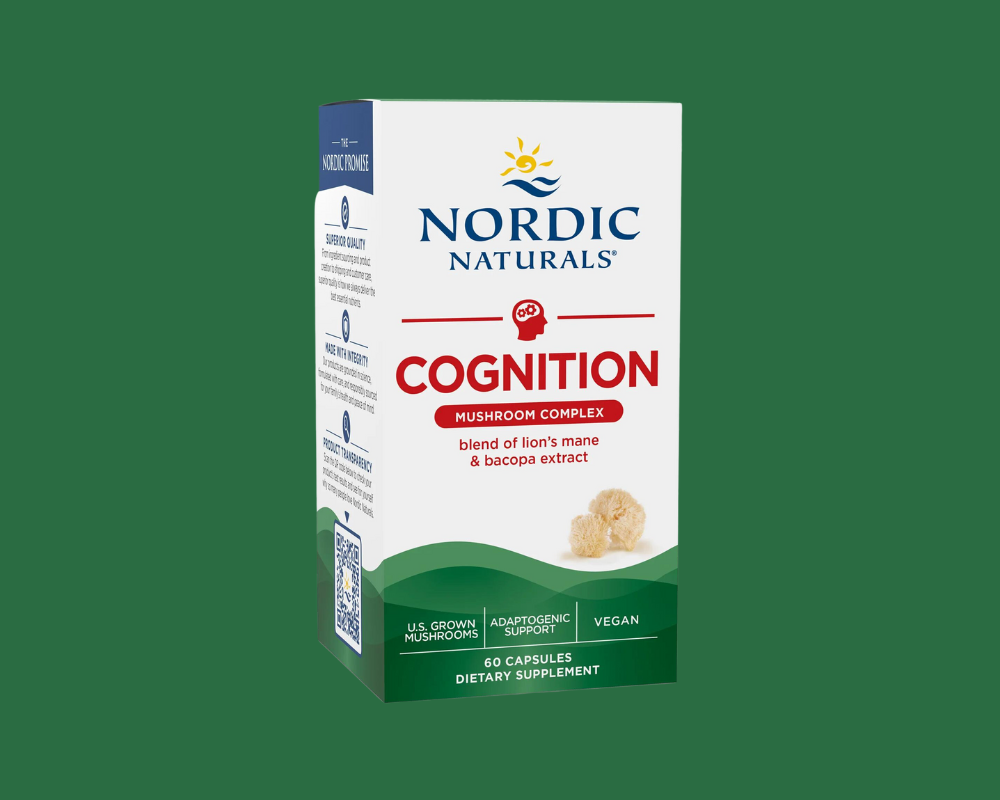 Nordic Naturals
6 Nordic Naturals Cognition Mushroom Complex
Made with mushrooms grown in the US, Nordic Naturals' mushroom supplements are available in capsule form. They include lion's mane extract, as well as bacopa monnieri, a type of herb popular in Ayurvedic medicine.
try it here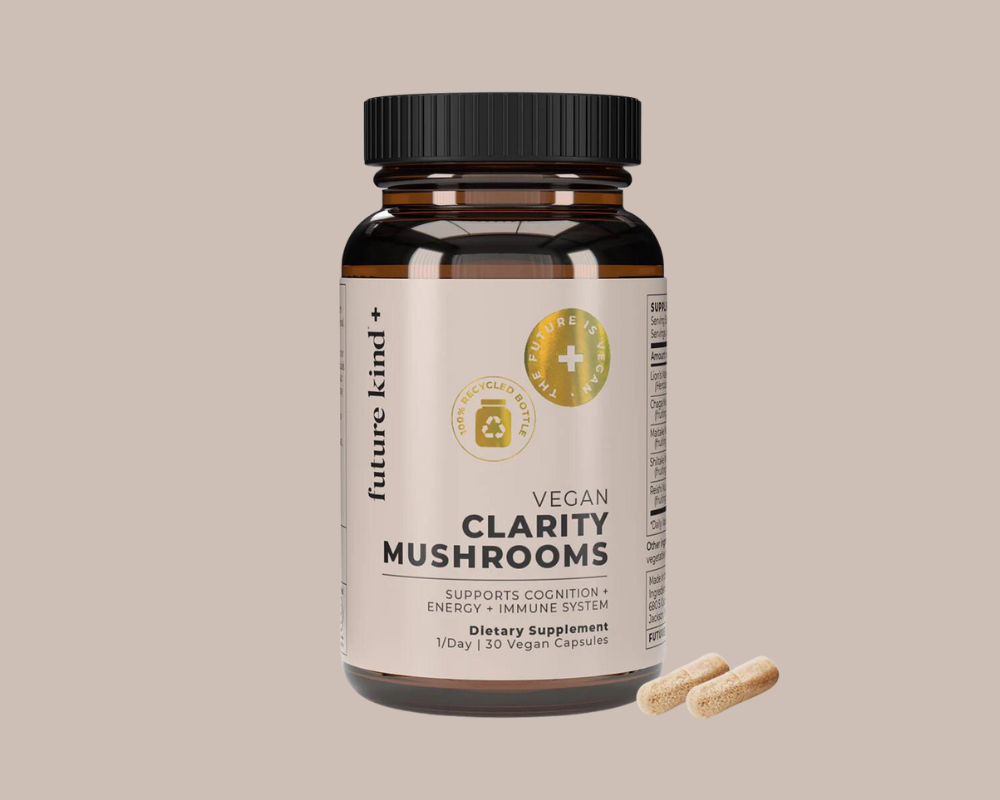 7 Future Kind Vegan Lion's Mane Mushroom Complex
According to supplement brand Future Kind, these vegan capsules will help to "support clarity and focus." Packaged in a recycled bottle, the supplements contain several different mushrooms, including chaga, shiitake, reishi, and lion's mane.
try it here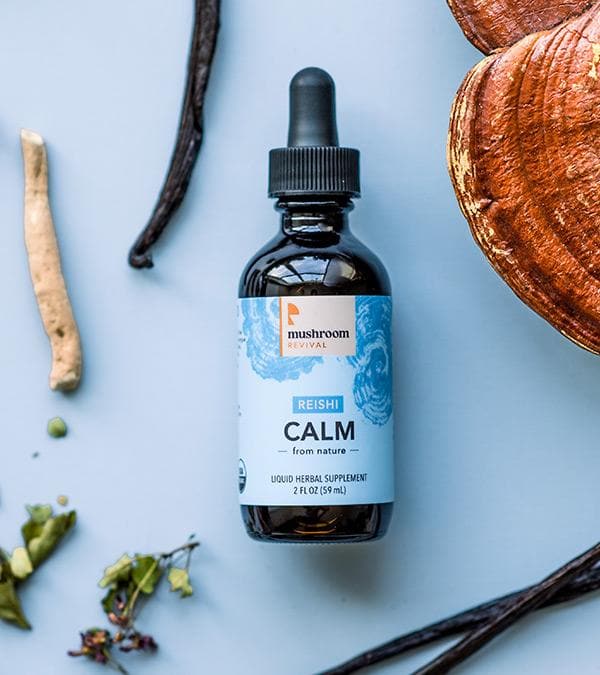 Mushroom Revival
8 Mushroom Revival Calm Reishi Tincture
If you like the ritual of using tinctures, then this Calm Reishi formula from Mushroom Revival is ideal. Hold the tincture under your tongue for a few seconds after squeezing it into your mouth, or, if you prefer to drink your supplements, add a drop or two to your morning coffee or tea.
try it here
For more on vegan supplements, read:
Here at VegNews, we live and breathe the vegan lifestyle, and only recommend products we feel make our lives amazing. Occasionally, articles may include shopping links where we might earn a small commission. In no way does this effect the editorial integrity of VegNews.