Fitness
MAFS UK's Adrienne Naylor talks life after the show, fitness tips and the £6 product responsible for her onscreen glow | Fitness tips of the day
Self-care will forever be our favourite hobby but we appreciate that recharging and putting yourself first looks different for everyone. Each week, we'll be asking the celeb lot to share their ideal self-care Sunday routines, the hard-working beauty products they recommend to their friends and which TV show they're currently binging…
This week it's all about Adrienne Naylor, a project support officer from Cumbria, who is best known for starring in the latest series of Married At First Sight UK. Although Adrienne's 'marriage' to co-star Matt Pilmoor didn't work out, Adrienne still served plenty of drama, babein' dinner party outfits and BFF #goals with Erica Roberts. But what is it like appearing in such a huge show like MAFS?
"It's madness!" Adrienne tells heat. "I literally keep saying I feel like Hannah Montana because I feel like I'm leading a double life. So where I come from in the lakes, it's the middle of nowhere, it takes me over an hour to get to a motorway! Nothing happens there, it's so low-key, to then being plummeted into this new world is absolute madness."
Adrienne talks exclusively to heat about her her plans after MAFS, fitness tips and the make-up she swore by for filming…
On life after MAFS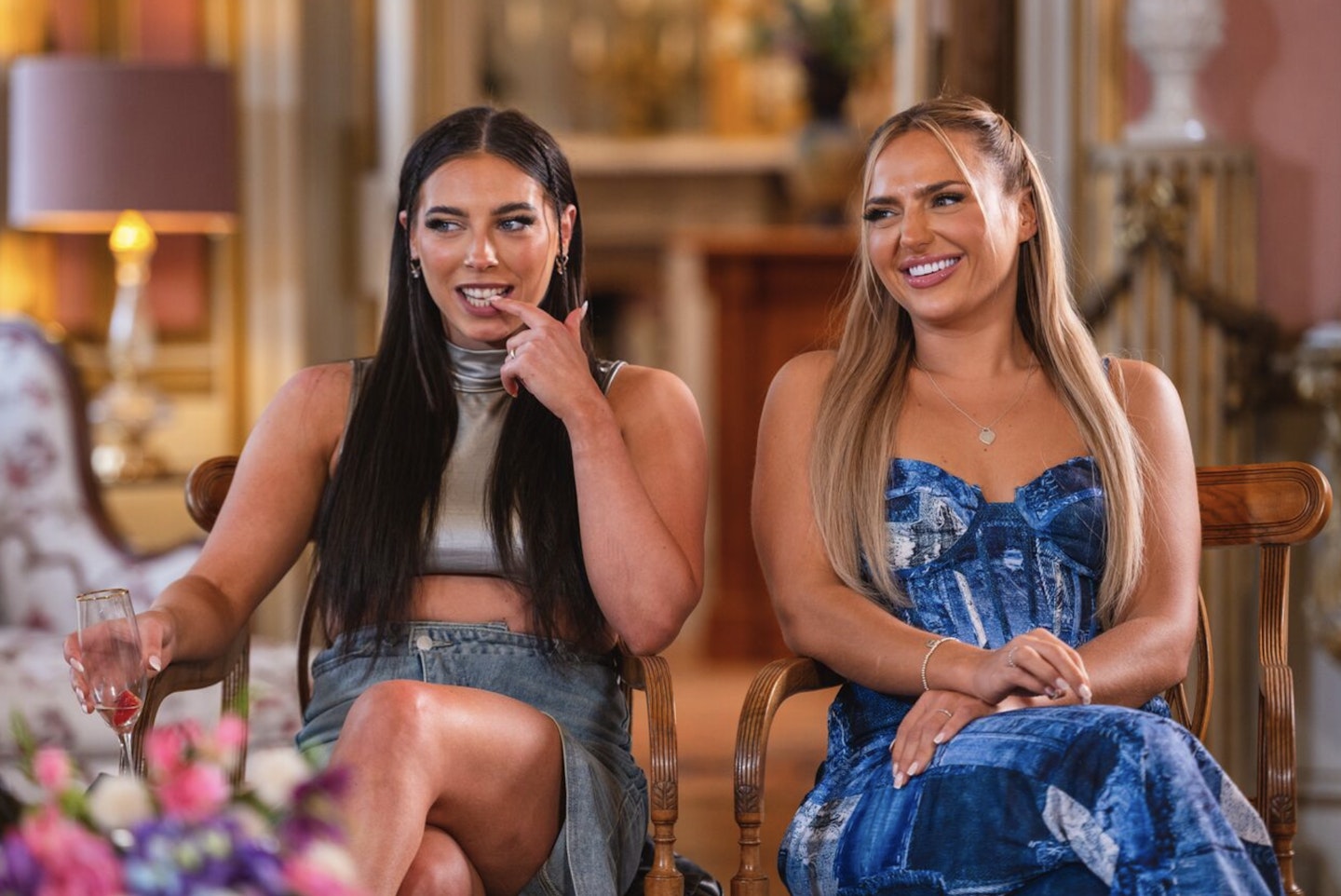 Adrienne (right) with BFF and co-star Erica Roberts
What's next for Adrienne now Married At First Sight UK is officially finished?
"I'm very career focused and I'm so grateful for the job that I've got in nuclear. I'm currently trying to, while all the MAFS craziness is going on, trying to get a promotion at work – literally, I'm trying to juggle ten plates!
"But yeah, I'm so grateful that I've got this weird and wonderful job and that they encouraged me to go down whatever avenue I like, but at the moment, that is to progress in project management and within the nuclear industry."
On watching herself back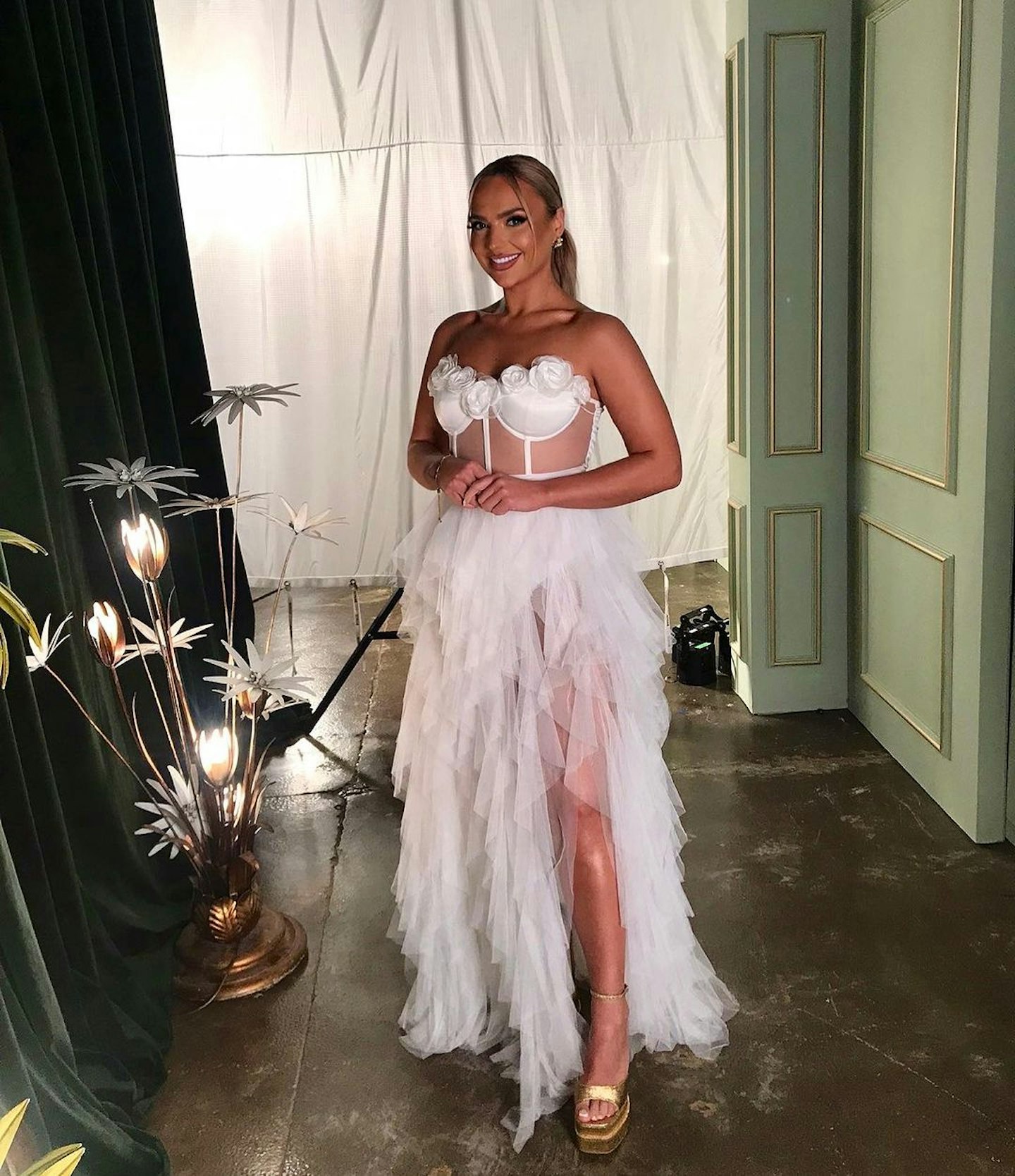 "It's so strange because, again, it doesn't happen to people who's up in the Lakes. Nothing happens, literally. The weirdest thing that will happen is you'll get stopped by sheep and you can't move your car for an hour! There's nothing.
"So, I remember even going down to do my cast couch day and I had never done a photoshoot before. Even that to me was so strange, I was so stiff! It was so out of my comfort zone but I'm so happy watching it back because I am just being me and I can't be anybody but me. That was the reason they wanted me on the show and also all my friends said that if I wasn't on the show they would come for me!"
On self-care
"Self-care to me is doing what makes you internally happy, it doesn't always have to be external. I think once you look after the internal side of you, it shows externally and it all comes together as one. If I have a Sunday off which isn't very often, I would wake up in the morning I would have a vanilla latte, then I would go for a walk and get some fresh air, because for me that sets your day off and gets your endorphins going.
"I would then go to the gym, again not just for the physical side. The body is an amazing thing and the things you can push yourself to do especially if you've fully rested on a Sunday – it's the perfect time to reach your personal best. Then I would chill and make sure all my admin is up to date. Do my skincare, I have quite bad eye bags so I love those hyaluronic acid patches you put under your eyes and they make me feel so zen."
On skincare
"When I'm stressed it shows on my face, so for example, last week on the show I know I was a bit down in the dumps because I can see the spots on my face. When I am in that mindset my skin does flare up.
"But one thing I swear by and I cannot live without is Weleda Skinfood and you've probably heard that 100 times, I cannot live without it, morning and night. I think my skin is so adapted to it now if I was on a desert island and I could only take one thing, I would choose that."
"Also, a lot of people ask me what I put on my body to make it glow and I swear by the Garnier 7-Day Moisturiser, oh my god, nothing compares. If you're going on a night out, moisturise and then put a bit of highlighter on the top of it whilst it's still sticky and chef's kiss!"
On budget beauty buys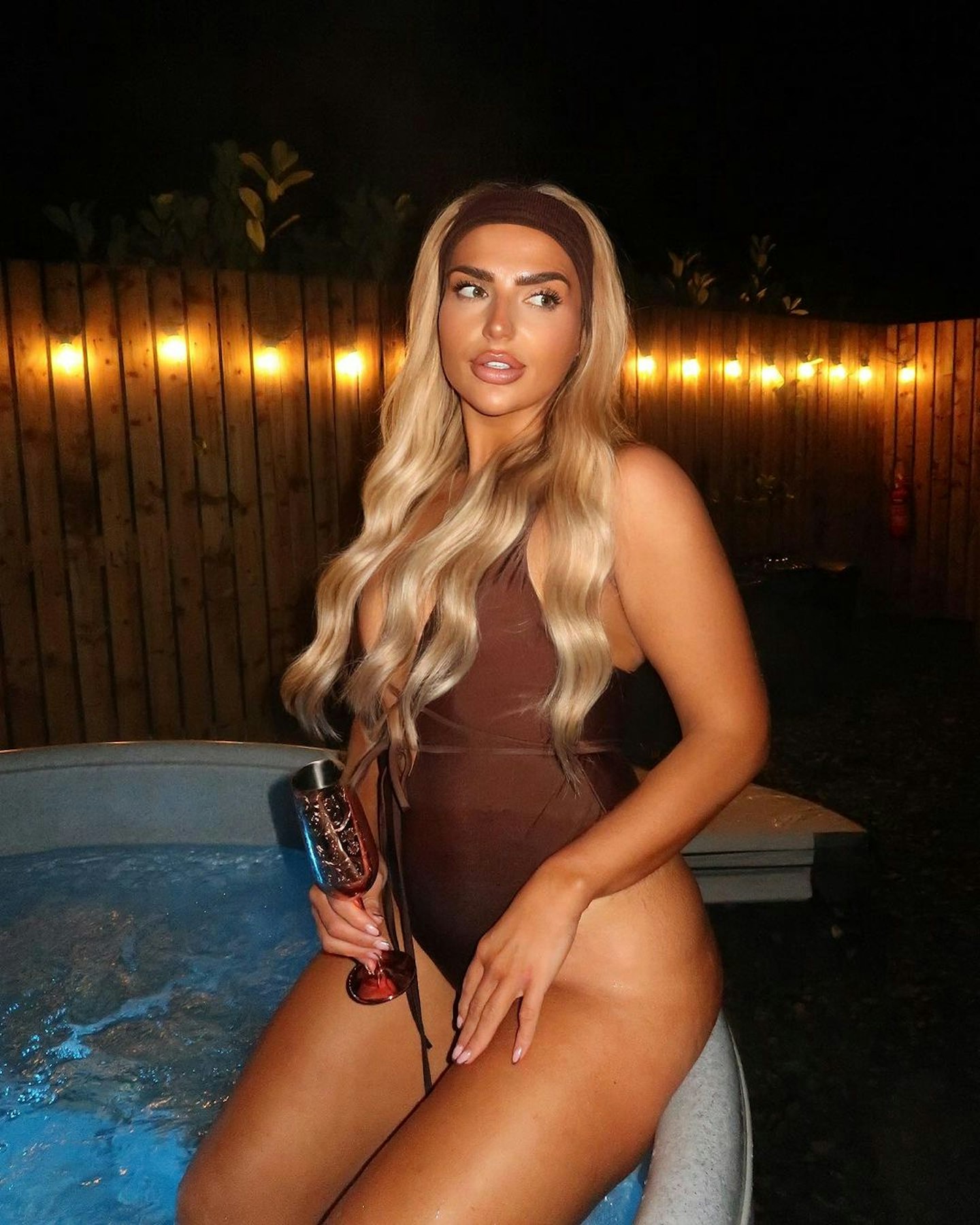 "I know all about the budget buys because I'm a council house girl so I'm not here to ever try and rip anybody off and I wouldn't sell a product that I didn't like or didn't use myself, that's not me. Again, if there's a product that is more high-end that I do use, I would still promote it but never promote it just for the sake of it.
"I love The Beauty Crop Oui Cherie Face Mist which went viral on TikTok. You've got to set your face or it's going to move and I set mine with quite a lot of powder, which can leave me quite dry. Then if you go in with the setting spray it helps refresh your base. It's about a tenner, I'm not even kidding."
On make-up for filming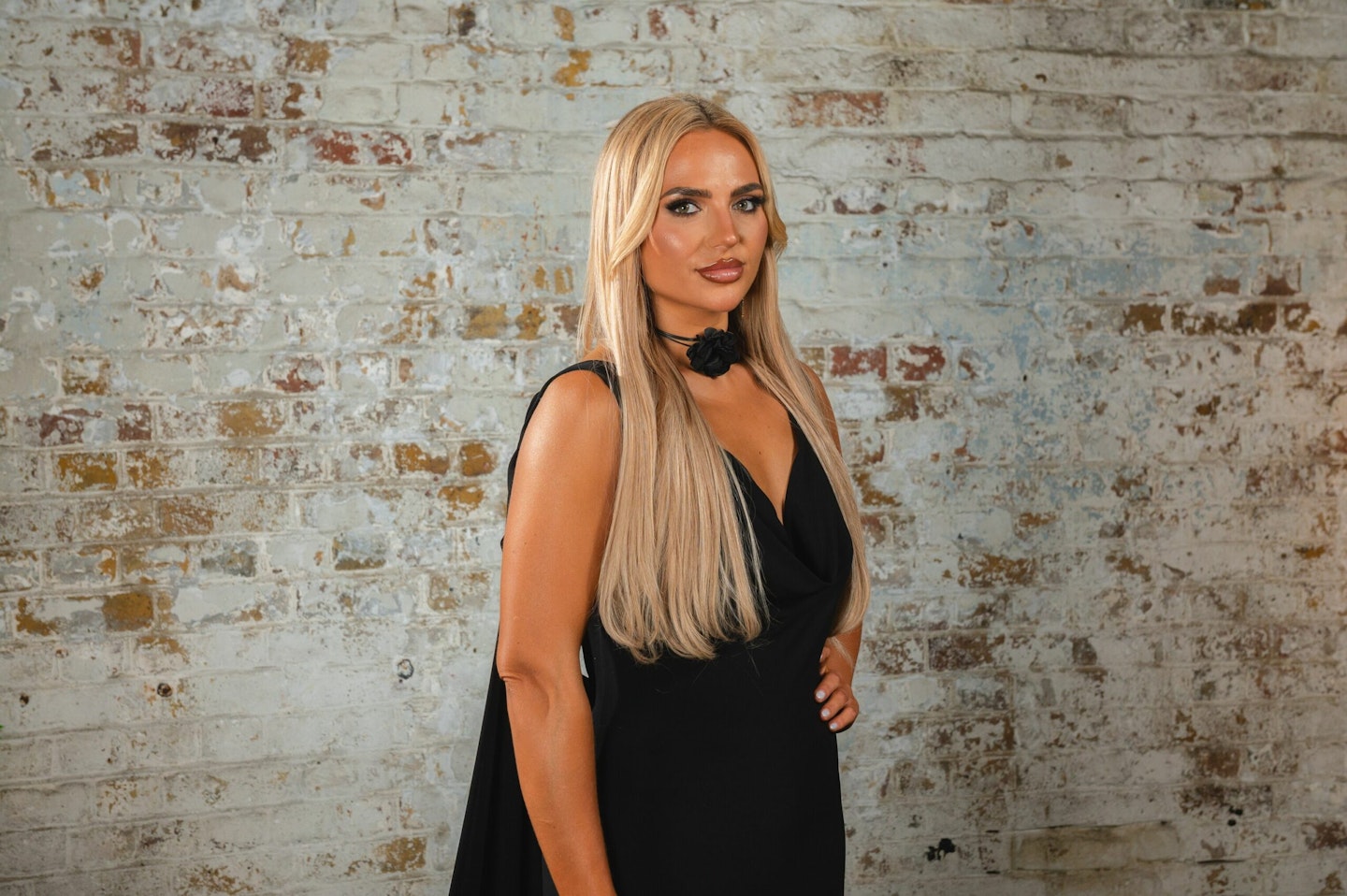 Pictured: Adrienne
Adrienne looked incredible on the show and we need to know: which products were responsible for The Glow?
"We had to do our own glad rag stuff, we didn't have anyone to get us ready. And obviously, sometimes that can mean getting ready for 7 o'clock in the morning and you've got to make sure it lasts all day.
"Having a good base is really important and I like a product that's quite versatile, that you can use for more than one thing. One of the things I do which all my friends have now picked up on is I use the MAC Mineralise Finish and I use that as a bronzer but also as an eyeshadow.
"Everyone's also gone wild for my lip combos, I literally feel like Kylie Jenner! Honest to god, this has been my favourite combo for the longest time, I've got two, I've got a pink nude and a brown nude.
"My pink go-to is MAC Plum Lipliner and I go in with MAC Yash over the top. I then blend it all together and you can leave it matte or if you want to be extra glory, put a gloss on the top.
"Then for my nude combo, again it's MAC, I do love their pencils. It's Cork by MAC which is a staple and then I would go in with Yash or Honey Love and again with a gloss. I love theKiko gloss, it's so good."
On dinner party outfits
"The one thing I regret is I wish I was more organised with my outfits, because poor welfare, literally every week I'd be like 'Can I have my phone because I really need to order something, I'm not happy with this week's choice!'"
"You don't know how long you're going to be there either and you don't really know what to plan for. You don't know what activities you're going to be doing. Honestly, me at home, I'm quite a chill girl. People see me on TV and think I'm high maintenance, but that is so not the case. Most days you'll find me walking around in my gym gear, hair scraped back and no make-up, just your average girl."
On daily wellness habits
What is an everyday ritual that helps Adrienne feel her best self?
"I would say definitely going to the gym and again, it's not for the physical side of it, it's more the mental release. It's the only time in the day that I can put my phone down and not reply to people, because at home there's so much going on. I've got work life, home life, make-up life, I've got it all going on. So I love that one hour where I can just put my phone down and focus one me and put my headphones on and literally zone out."
On fitness tips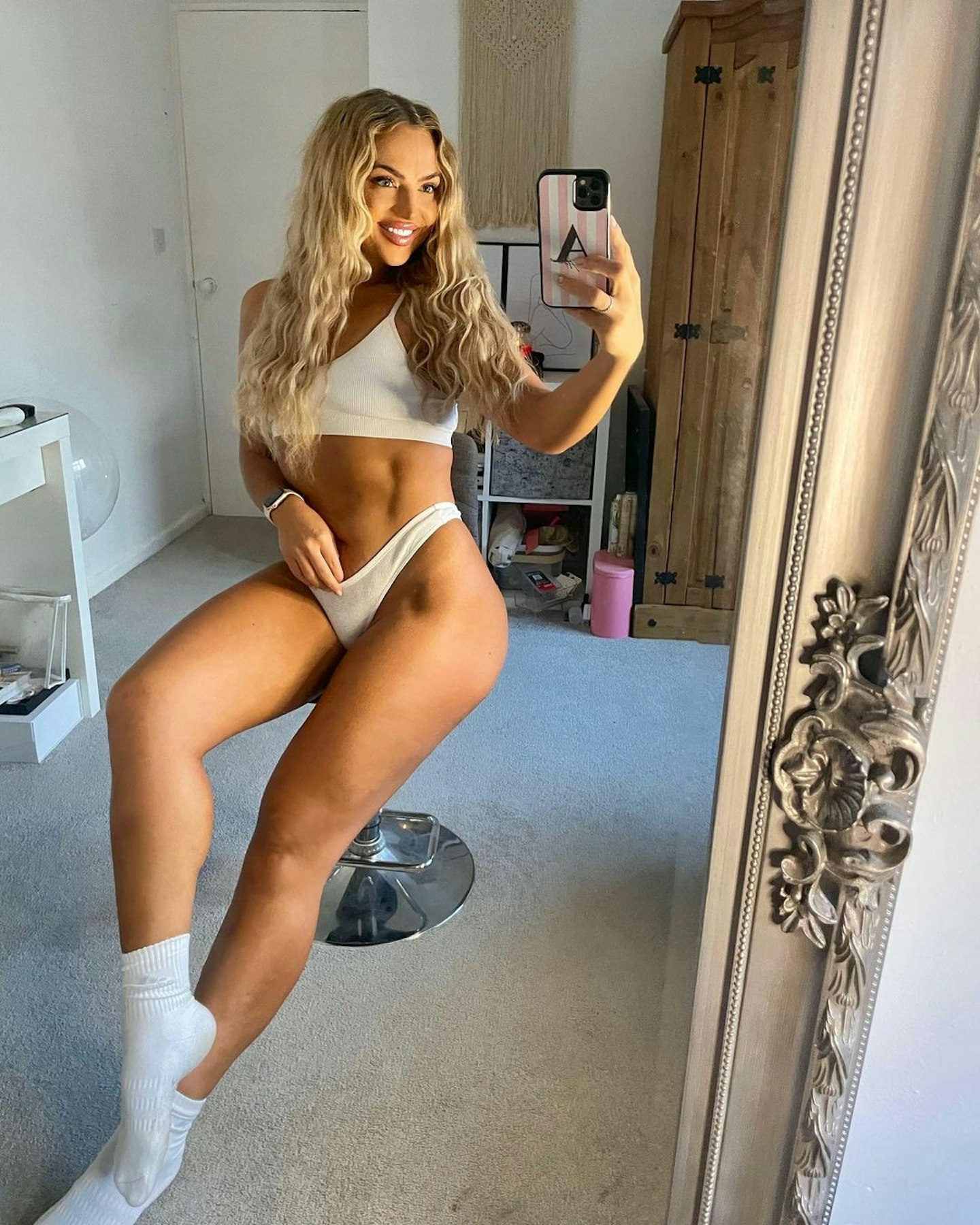 "Recently I've learned not to be as hard on myself, if progress doesn't go up and up all the time, because it's a journey that's going up and down. I would definitely say over the past year or so I've tried not to be too hard on myself with focusing on the scales and instead focus on being strong and trying to see what I can mentally push my body to do and see what I can lift.
"That's not saying I want to be a bodybuilder or I want to compete, that's never the plan – it's more of a thing to prove to myself. That's the thing that matters, you don't have to prove to anybody else, it's proving to yourself that you can do it. Once you've done that, you've conquered it, because you're not relying on anybody, this is your gift to you."
Quickfire round,
What show are you currently watching? MAFS, but normally I don't watch TV – I don't have time.
How do you like your cuppa? Strong and hot like my men!
Go-to loungewear brand? Probably Gymshark.
Everyday perfume? Jo Malone Myrrh and Tonka, I can't live without it.
Go-to takeaway order? Chinese, always. I like ordering enough to feed a family of ten!
Favourite candle? It definitely has to be Yankee Candle. Either Pink Sands or Coconut.